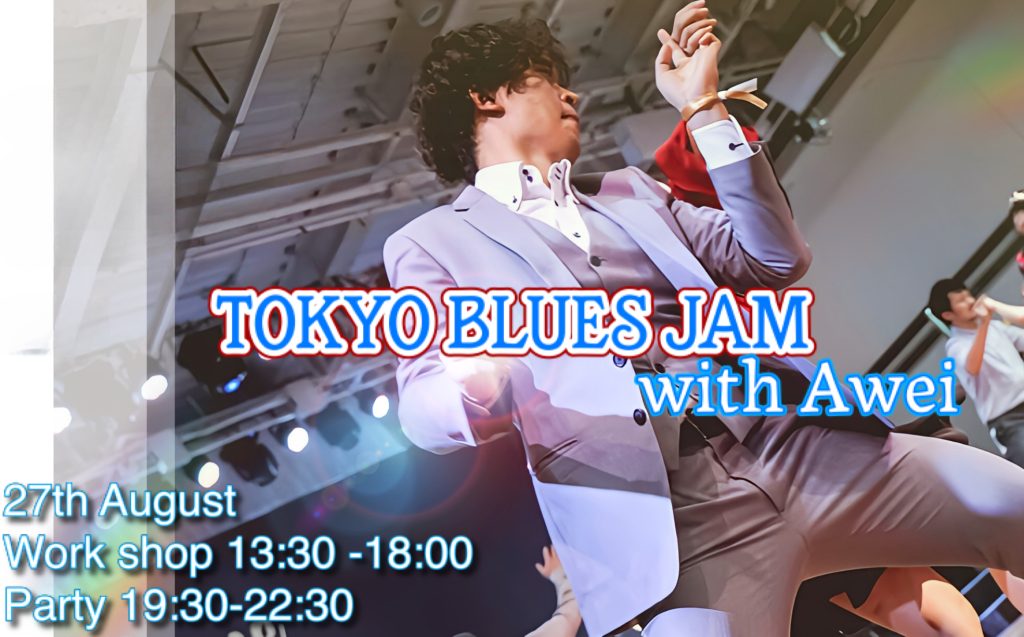 The slow-tempo blues dance is full of the necessary elements of lindy-hop and balboa to expand your range of expression.
Don't miss it!
What's Blues dance?
Blues is a social dance that originated in the USA in the 1800s and half 1900s and grew up with blues music, with an emphasis on improvisation, personal style and solo movement.
Here is a video of Awei dancing. (Facebook link)
Workshop
Reservations will be accepted from 10:00 on Sunday 23 July.
<Level>
All Levels
 *Newcomers to blues dance are welcome.
  However, you must have experience in pair dancing (swing, ballroom, salsa, tango, etc.).
If you are unsure about your level, please feel free to contact us.
< To workshop attendees >
Please wear slippery shoes as you will be sliding.
Do not use powder.
<Schedule>
 Sunday 27th August 2023
  1:10-1:25pm : Reception
  1:30-2:30pm : Slow dance foundation
  2:40-3:40pm : Rhythm of Blues
  3:50-4:50pm : Juke Blues
  5:00-6:00pm : Ballroom Blues
<Fee>
 10,000 yen for 4 classes
 7,000 yen for 2 classes
 ★For those who apply in pairs, there is a "pair discount" Find a partner and apply for it.*Lessons will be rotated.
 Pair discount 4 classes 18,000 yen (9,000 yen per person)
 Pair discount 2 classes 13,000 yen (6,500 yen per person)
<Venue>
2-9-4 Osaki, Shinagawa-ku, Tokyo
Osaki Dai2chiiki center・kumin syukaijyo(JR Osaki Station South Ticket Gate, 4-minute walk)
大崎第二地域センター・区民集会所
Map:https://goo.gl/maps/erFdHNN5DfcXAdFJA
Map from Oosaki station(Japaniese): untitled (city.shinagawa.tokyo.jp)
Registration 23th July 2023 10:00am~
Applications for followers only are on a waiting list after 19:00 on Monday 24 July.
Applications as a pair or as a leader will be accepted without waiting.
【Registration】
*Registration will not be accepted other than via the registration form.
Cancellation Policy.
Cancellation fees after transfer
 Transfer – 6 Aug 50% *50% refund
 7 Aug-20 Aug 70% *30% refund
 21 Aug – 27 Aug 100% *no refund
Instructor profile
Awei
■Career
~2013 No any dance background, start from Swing dance in Taipei.
2014 July, First time took Blues track in Herräng Dance Camp.
2017 First Blues class teaching in Taipei.
From 2018 to 2023, shared my Blues in these places:
Taiwan, Hong Kong, Singapore, Budapest, Kuala Lumpur, Saigon(HCM), Wuhan, Tianjin, Shenzhen, Chengdu, Hangzhou, Kunming…
■Contest
2023 Seoul Blues Dance Festival – Strictly with Rachel Yang: First place🥇
2022 Korea Blues Camp – Solo: Final
2021 Beijing Blues Bash – M&M: Third place 🥉
2019 BlueSweet – M&M: Second place 🥈
2019 Beijing Blues Bash – M&M: 🥉
2018 Malaysia Swing Out Loud -Swing Out contest: First place🥇
■Judging
2023 Kunming Cloud 9 Festival – Open M&M
2021 Taiwan Blues Camp – Open M&M
2020 BA Blues – Open M&M
2020 BA Blues – Solo Blues
■Organization
2021 Taiwan Blues Camp – Organizer
2019 BubblePOP Taipei Lindy Exchange – Co-Organizer
Note
・Please bring your own drinks.
 (There are vending machines, convenience stores, etc. near the venue)
・There is a changing room for women only. Men should use the toilet.
・Please refrain from shoes with heels. We also prohibit powders and anti-slip applied to shoes.
・Please take your garbage home.
・NO Smoking in all rooms.
・The parking lot at the venue is not available, so please use public transportation or pay parking nearby.
・In accordance with the announcement by the Ministry of Health, Labor and Welfare, Dancing Bus lessons and events will also be left to the discretion of the individual to wear a mask after March 13, 5 Reiwa
Dance party
A blues main event will be held at Trio, a bar in Fudomae, from 7:30pm on the same day.
For more details, please click here.